Join Highlands Nordic Ski Club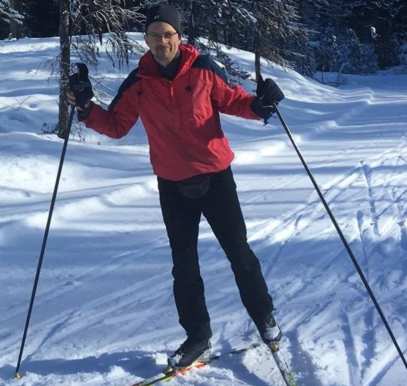 Skiing is so much fun and since it is such vigorous activity we dress much lighter than we would for other outdoor winter activities. Since we are usually in constant motion that works well........unless something happens so that we can no longer ski. Just stopping for a quick chat can cool one down quickly. If you take a fall or suffer some other type of medical emergency it is important to have proper gear so you can keep warm and get out without further harm. We don't like to think about this possibility, but being prepared can keep a bad situation from getting worse.

As some of you know, we had an accident at the Sno Park the week of December 11, 2017. One of our highly experienced skiers took a fall late in the day and injured her knee. She saved herself by being smart, keeping her head, and having the right gear with her. That included:
- Warm jacket
- Warm mitts
- Charged cell phone (kept warm)
- Pack
- High calorie snack
- She wishes she would have had a headlamp, as dark came quickly and there was no moon.

Once she assessed her injury and realized she wasn't going to be able to ski out, she put on her jacket and hood, and her warm mittens. She sat on the pack, tied the arm straps to her legs, left her skis on and began pushing herself down the hill. Periodically she tried her cell phone, and eventually was able to call for help. Between neighborhood efforts and search and rescue teams, she was back to the parking lot within a couple of very long, uncomfortable, scary hours.

The accident was unfortunate, and it could have been a lot worse. Since it happened, I've been talking to skiers and thinking about how to be safe. Here is a list of things to carry and things to do, particularly for those of us who ski alone. Consider this interactive. Many of you have more experience than me and may have comments or items to add.

To carry:
- Warm jacket
- Warm hat
- Warm mitts
- Charged cell phone (kept warm)
- Pack
- Headlamp
- High calorie snack
- Water
- Small piece of ensolite to sit on
- Bear spray
- Walkie-Talkie
- Space blanket

And particularly for off trail adventures:
- Fire starting materials
- Chemical hand warmers

To do:
- Never ski alone
- ALWAYS let someone know you are skiing and when you plan to be back
- Consider the time of day; things are easier in the light
- Leave a note and/or a map in you car saying where you are planning to go
- Leave a Walkie-Talkie in your car (paired to the one in your pack)

Cell phone coverage is spotty and the cold drains batteries. Verizon may work better than AT&T in the Highlands

Be safe when you come ski!